Activities
Since 1960, THERMIDOR has a recognized experience in the field of industrial furnaces.
These furnaces are built for applications such as :
- melting (non-ferrous alloys)
- forge (steel, aluminium, titanium, ...)
- heat treatment (steel, stainless steel, aluminium, copper, ...)
- special applications furnaces (firing, online process, ...)

These furnaces are heated by gas or electricity.
Means of design and manufacture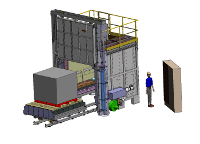 Located at Romans sur Isère (France), the plant includes :
the design office equipped with CAD
the assembly workshop and the production of
refractory concrete parts
the after-sales service
the sales department and management team
Markets : France and export
THERMIDOR operates in France and abroad with numerous customers in Europa
(Italy, Switzerland, Germany, Belgium, Luxembourg, Czech Republic, England, Ireland, Spain, Portugal, ...)
and on others continents (USA, Mexico, Peru, Algeria, Marocco, Tunisia, Vietnam, ...)
Informations

THERMIDOR is an active member of the french furnaces and thermal equipment group of CISMA, french union of equipment manufacturers for the building and civil engineering,
the handling, the metallurgy, ...
CISMA is a member of the european industrial furnaces manufacturers association CECOF.